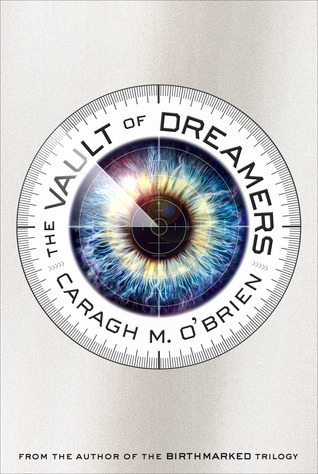 Title:
The Vault of Dreamers
Author:
Caragh M. O'Brien
(
@CaraghMOBrien
)
Published: September 16th, 2014
Series: ?
Genre: YA sci-fi | dystopian | thriller
POV: 1st person
Pages: 432
Publisher: Roaring Brook Press
Format: Print ARC
Source: Publicist (accepted for review)
Rating: The Royal Library, Middle Shelf
From the author of the Birthmarked trilogy comes a fast-paced, psychologically thrilling novel about what happens when your dreams are not your own.

The Forge School is the most prestigious arts school in the country. The secret to its success: every moment of the students' lives is televised as part of the insanely popular Forge Show, and the students' schedule includes twelve hours of induced sleep meant to enhance creativity. But when first year student Rosie Sinclair skips her sleeping pill, she discovers there is something off about Forge. In fact, she suspects that there are sinister things going on deep below the reaches of the cameras in the school. What's worse is, she starts to notice that the edges of her consciousness do not feel quite right. And soon, she unearths the ghastly secret that the Forge School is hiding—and what it truly means to dream there.
Peculiar and creative, this is a story unlike any other. Rosie Sinclair is on her way out of the prestigious Forge School – and consequently the Forge Show, a popular reality TV series that follows the students through their day life – unless she can get her rank up. But, she soon finds that there's more to worry about than her ranking, because strange things are happening while everyone is asleep. Secrets, lies, deceptions, and twists,
The Vault of Dreamers
is a wild maze that concludes with an astounding surprise.
This is a story best described as intriguing and unnerving. There are elements that give me chills, simply because I see certain aspects of this story becoming true in a more technologically advanced future. Rosie's discoveries are horrifying, unnerving, and each time you feel as though everything is figured out and revealed, a new piece complicates the puzzle. Add in the intriguing futuristic technology and society to the already wonderful mystery, and you've got an incredible story. Thrilling and fascinating,
The Vault of Dreamers
is a page-turner that will haunt your dreams and stay on your mind long after finishing.
Highlights: There are many twists and I was constantly debating what was true or false, who can or cannot be trusted. The Forge School was actually quite intriguing, and one of Rosie's assignments was hilariously creative and helpful to unraveling the truth. Rosie's new friends are great characters, and I only wish they had been given more page-time. The creativity of the story was fantastic, and I found it difficult to set this book aside (which is exactly what I want from a novel).
Lowlights: A few questions are not answered, so that's frustrating. I didn't believe in the romance, and I feel it mostly developed off-page. I wish a few characters had been developed more. I feel like one part of the ending is unrealistic (regarding the guardianship). The ending is torture, I hope there will be a sequel because I need answers!