Thanks to Rosanne at HarperCollins, I had the opportunity to ask Kiersten White some questions (and receive some very wonderfully amusing answers) about herself and her latest novel, ILLUSIONS OF FATE!
QUICK! Describe ILLUSIONS OF FATE in 7 words or less!
Rectangular! Containing paper and ink! Book! Wait, no, I did this wrong, didn't I. How about: Magic! Romance! Tea! Birds!
I kind of love both answers! Both are accurate....Do you have any favorite teaser lines from ILLUSIONS OF FATE that you can share?
"Clearly he does not know me if he thinks I am ever in a condition where arguing is not possible."
What makes Jessamin unique from the main characters of your previous novels? What do you admire most about her?
I always like exploring what it means to be an outsider and how we find ourselves. With most of my main characters, their big arc is discovering themselves. Jessamin, however, knows exactly who she is--and values herself. The society around her tries to tell her what she is (lesser), but she fights against it. I love this about her. It would be very hard to hold onto that sense of self-worth when everything around you tells you not to. Fortunately, Jessamin is very stubborn.
What steps did you take to build the world and setting of ILLUSIONS OF FATE?
Since I was dealing with magic and fantasy, I wanted to layer it onto a very familiar world setting. I based Albion on late Victorian/Edwardian England, and Jessamin's home on the Polynesian islands. I think it was Laini Taylor who said the more you ground your story in the familiar, the more liberties you can take with the fantastical, and I think that's very true. Everything I needed was already in place: post-colonialism, a strict and archaic gentry system, and magic, because everyone knows England is just a bit magic already.
If you could spend 24 hours in any fictional world (book, film, TV), where would you go and which two people (real or not real) would you take with you?
Iceland, because everyone knows Iceland is too magical to be real. I would go with Stephanie Perkins and my husband, both of whom are too delightful to be real, and we would watch the Northern Lights, which are too beautiful to be real.
Do you ever leave any calling cards or Easter eggs (literary references or signature characteristics, such as reoccurring themes, symbols, names, style, etc.) in your books?
Oh, so many. As far as reoccurring themes, someday I will write a literary analysis of my books and tell you exactly the ideas I seem to fixate on (identity, the nature of mortality, responsibility to self versus responsibility to others are just a few). Eleanor's last name, which I think is maybe never even mentioned in the book, is Wynne, after Diana Wynne Jones, author of Howl's Moving Castle. And she lives on Fitzwilliam Lane, after a certain Fitzwilliam Darcy. Other than that, I like to think my work is subversively dark beneath the humor and magic. Much like myself.
What type of story are you working on next?
I'm working on an epic historical fiction series about Vlad the Impaler, a brutal Romanian prince whom I am turning into Lada the Impaler, a brutal Romanian princess, her brother, Radu the Handsome, and their contemporary, the brilliant young Ottoman Sultan Mehmed the Conqueror.
Thanks to Rosanne from HarperCollins and Kiersten for the interview!
ILLUSIONS OF FATE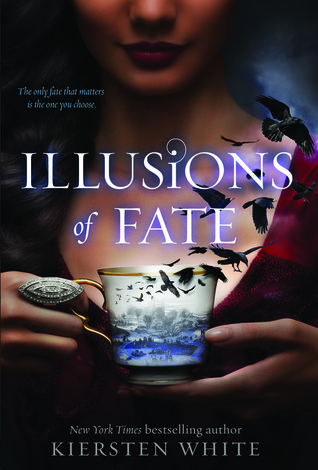 ILLUSIONS OF FATE
Available Now
Downton Abbey meets Cassandra Clare in this lush, romantic fantasy from New York Times bestselling author Kiersten White.

"I did my best to keep you from crossing paths with this world. And I shall do my best to protect you now that you have."

Jessamin has been an outcast since she moved from her island home of Melei to the dreary country of Albion. Everything changes when she meets Finn, a gorgeous, enigmatic young lord who introduces her to the secret world of Albion's nobility, a world that has everything Jessamin doesn't—power, money, status…and magic. But Finn has secrets of his own, dangerous secrets that the vicious Lord Downpike will do anything to possess. Unless Jessamin, armed only with her wits and her determination, can stop him.
GIVEAWAY
I received a finished copy of ILLUSIONS OF FATE from HarperCollins, and I want to pass it along to one of my readers! US only (sorry!), enter using the rafflecopter below.
a Rafflecopter giveaway
CONNECT WITH KIERSTEN WHITE