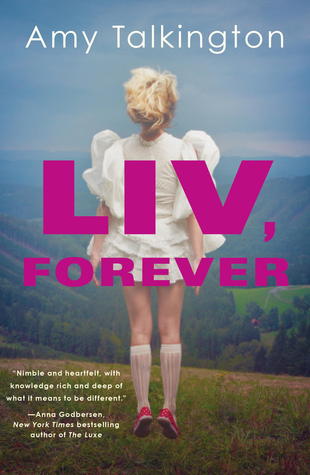 Title:
Liv, Forever
Author:
Amy Talkington
(
@amytalkington
)
Published: March 2014
Series: N/A
Genre: YA Paranormal
POV: 1st person
Pages: 280
Publisher: Soho Teen
Format: Print ARC
Source: Vine Program
Rating: The Royal Library, Bottom Shelf
When Liv Bloom lands an art scholarship at Wickham Hall, it's her ticket out of the foster system. Liv isn't sure what to make of the school's weird traditions and rituals, but she couldn't be happier. For the first time ever, she has her own studio, her own supply of paints. Everything she could want.

Then she meets Malcolm Astor, a legacy student, a fellow artist, and the one person who's ever been able to melt her defenses. Liv's only friend at Wickham, fellow scholarship kid Gabe Nichols, warns her not to get involved, but life is finally going Liv's way, and all she wants to do is enjoy the ride.

But Liv's bliss is doomed. Weeks after arriving, she is viciously murdered and, in death, she discovers that she's the latest victim of a dark conspiracy that has claimed many lives. Cursed with the ability to see the many ghosts on Wickham's campus, Gabe is now Liv's only link to the world of the living. To Malcolm.

Together, Liv, Gabe, and Malcolm fight to expose the terrible truth that haunts the halls of Wickham. But Liv must fight alone to come to grips with the ultimate star-crossed love.
Initially, my expectations were incredibly low for this book. For whatever reason, the combination of the cover and summary only made me roll my eyes. The only reason I decided to read this story is because I read a glowing review from
Melissa at I Swim For Oceans
. I think she has fabulous taste in stories, so I took a chance. Even so, I entered with the feeling I might be disappointed, and was pleasantly surprised. Liv Bloom is only at her ritzy school for a short time – long enough to fall in love with legacy Malcolm Astor, start her art work, and unfortunately become murdered. Awakening as a ghost, she's determined to find out what happened to her with a little help from Gabe – a student who sees all of the ghosts of girls who have been killed at Wickham Hall – and Malcolm, the three of them seek the truth.
While a few aspects are a bit transparent regarding the mystery, Talkington's novel is still undeniably entertaining. Liv is a protagonist you want to succeed, and the horror aspects of this story are written in the just the right way to give you chills. The relationships within
Liv, Forever
sold this novel for me. Liv and Malcolm are a surprisingly sweet couple, and Liv's friendship with Gabe is wonderful too. There's plenty of small moments of humor mixed in with the serious, and
Liv, Forever
proves to be a book that will keep you reading long after you meant to set it aside for the day.
Highlights: The rules of being a ghost were interesting to discover – Liv can interact with the world around her, somewhat, but it's limited. The pages detailing the deaths of the other girls were incredibly eerie, and set the right tone for the story. Liv's a great protagonist, and her artistic nature shows through (I liked her references to other artist's works). The mystery was interesting, and the ending was a surprise. Descriptions were fantastic, Talkington excelled at bringing her setting and characters to life.
Lowlights: I saw a few aspects coming, and a few more seemed a bit cliched. But, still a highly entertaining story.
Rating:
The Royal Library, Bottom Shelf
(4 out of 5)
.
Liv, Forever
was much better than I expected, and I think this is a story worth reading. It's dark, mysterious, amusing, and full of surprises.
I received an advanced copy of this novel in exchange for an honest review.
This is no way affected my opinion of the novel.