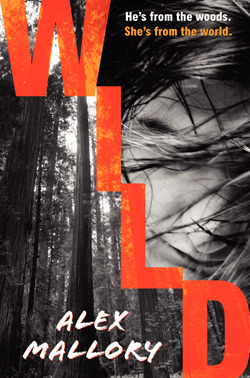 Title:
Wild
Author:
Alex Mallory
(aka
Saundra Mitchell
)
Published: July 8th 2014
Series: N/A
Genre: YA contemporary | retelling
POV: 3rd person, switching
Pages: 448
Publisher: HarperTeen
Format: Electronic ARC
Source: Edelweiss
Rating: The Courtyard
The forest is full of secrets, and no one understands that better than Cade. Foraging, hunting, surviving— that's all he knows. Alone for years, Cade believes he's the sole survivor. At least, until he catches a glimpse of a beautiful stranger…

Dara expected to find natural wonders when she set off for a spring break camping trip. Instead, she discovers a primitive boy— he's stealthy and handsome and he might be following her. Intrigued, Dara seeks him out and sets a catastrophe in motion.

Thrust back into society, Cade struggles with the realization that the life he knew was a lie. But he's not the only one. Trying to explain life in a normal town leaves Dara questioning it.

As the media swarm and the police close in, Dara and Cade risk everything to get closer. But will the truth about Cade's past tear them apart?

A YA Tarzan retelling.
Wild
is a retelling of Tarzan, and it is an interesting take on that story. Cade is a survivor and highly in balance with nature – he knows how to the move and all the tricks it takes to survive in a forest from season to season. Dara, meanwhile, is your average high school teenager who loves photography and finds her relationship with her boyfriend slowly unraveling, especially once Dara and Cade collide. Their connection is immediate, and never wavers as Cade finds himself entering Dara's world. He's a fish-out-of-water, and the media is ready to devour him and his oddness. His character is undeniably the best part of the novel, along with Mallory's descriptions of various settings (especially the forest). A story about difference, friendship, and discovering the truth,
Wild
is a fresh and intriguing story.
Highlights: Cade's perspective and his character were great. I loved the chapters that zeroed in on his mindset and loved how he saw the world. He has this innocence and wonder to him as he explored Dara's world, and that genuine sweetness and cluelessness made him an intriguing character. Dara's love for photograph was also nice, and some of the descriptions for her photographs were lovely. I also liked Dara's relationship with her sister, and how it was a bit messy but still realistic.
Lowlights: I ended up lowering the rating because the story itself, while fascinating, ultimately disappointed. I didn't care about the characters, or for the multiple POV jumps. What little mystery that was present wasn't actually mysterious. And in the end, the only reason I continued reading was to see what would happen, and to enjoy Cade's fish-out-of-water perspective.
Rating: The Courtyard
(very low 3 out of 5). I did like this book while reading, so
Wild
does have permission to hang around the palace grounds. But, the more I thought about
Wild
after finishing, the more I realized it was lacking that extra spark. It's a likable story, but it has some problems and is ultimately a story I will forget. Regardless, I'd recommend checking it out if you're a fan of Tarzan and are in any way curious about this novel!