DEATH SWORN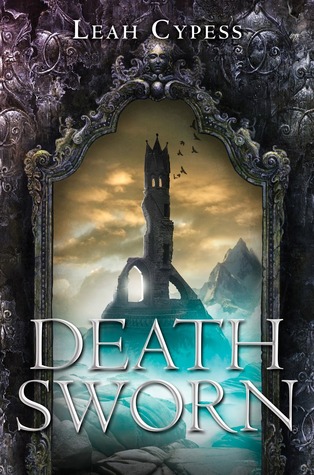 Title:
Death Sworn
Author: Leah Cypress
Published: March 2014
Series: Death Sworn #1
Genre: YA Fantasy
POV: 1st person
Pages: 352
Publisher: Greenwillow
Format: e-ARC
Source: Edelweiss
Rating: Tea Party
When Ileni lost her magic, she lost everything: her place in society, her purpose in life, and the man she had expected to spend her life with. So when the Elders sent her to be magic tutor to a secret sect of assassins, she went willingly, even though the last two tutors had died under mysterious circumstances.

But beneath the assassins' caves, Ileni will discover a new place and a new purpose… and a new and dangerous love. She will struggle to keep her lost magic a secret while teaching it to her deadly students, and to find out what happened to the two tutors who preceded her. But what she discovers will change not only her future, but the future of her people, the assassins… and possibly the entire world.
Highlights:
The magic system in
Death Sworn
is fascinating, and it's nice to see a protagonist who struggles and relies on their wits to get them through tough situations. Ileni used to be impressive and powerful, but now her magic continues to fade away, but she doesn't let that hold her back. Even though the setting is limited to the assassin's cave, Cypress writes the setting in a wonderfully detailed fashion that brings every inch to life. The mystery behind what happened to the previous tutors, and what may happen to Ileni, kept me curious and intrigued until the very bittersweet conclusion. Action, secrets, magic - it was truly a wonderful story.
Lowlights: I wish the setting had been expanded a bit wider. The romance was weak, and the characters could have been developed a bit more. As much as I enjoyed the story, I was left a bit underwhelmed, but I have a feeling the next novel will be even better.
Rating: Tea Party
(very high 3 out of 5). I enjoyed this story very much, enough that I'd like to have it around for a tea every so often. Yet, while I greatly enjoyed
Death Sworn
, it hasn't earned a permanent spot in my palace.
ALTERED
Title:
Altered
Author: Gennifer Albin
Published: October 2013
Series: Crewel World #2
Genre: YA sci-fi / dystopia / paranormal
POV: 1st person
Pages: 401
Publisher: Farrar, Straus, and Giroux
Format: Print ARC
Source: Publicist
Rating: Tea Party
Life. Possibility. Choice.

All taken from Adelice by the Guild—until she took them back.

But amid the splendid ruins of Earth, Adelice discovers how dangerous freedom can be. Hunted by soulless Remnants sent by Cormac Patton and the Guild, Adelice finds a world that's far from deserted. Although allies are easy to find on Earth, knowing who to trust isn't. Because everyone has secrets, especially those Adelice loves most. Secrets they would kill to protect. Secrets that will redefine each of them. Torn between two brothers and two worlds, Adelice must choose what to fight for.
Highlights: I found Albin's debut surprising and fascinating, and the sequel to Crewel proved to be more of the same. Adelice finds herself in a new place, where life is very different than the one she knew as a spinster. Earth is such a different place than it used to be, and the horrifying Remnants make it a dangerous place to be. The secrets that are revealed about her past, her parents, and her new "allies" were so fascinating and shocking. This is one of those stories that keeps you glued to the pages, eager for more.
Lowlights: The romance was so disappointing. The love triangle is in full force, but I couldn't root for either love interest. I probably would have liked this book so much more without the love triangle.
Rating: Tea Party
(high 3 out of 5). I enjoyed this story very much, enough that I'd like to have it around for a tea every so often. Yet, while I greatly enjoyed
Altered
, it hasn't earned a permanent spot in my palace.
HOUSE OF IVY & SORROW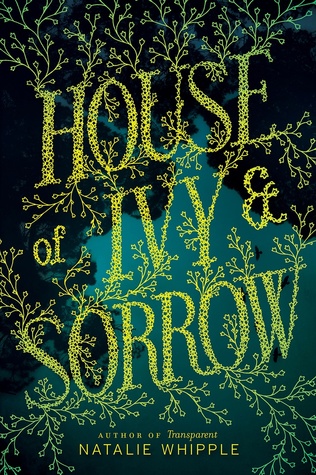 Title:
House of Ivy & Sorrow
Author: Natalie Whipple
Published: April 2014
Series: ?
Genre: YA paranormal
POV: 1st person
Pages: 360
Publisher: HarperTeen
Format: Electronic ARC
Source: Edelweiss
Rating: The Royal Library, Bottom Shelf.
Josephine Hemlock has spent the last 10 years hiding from the Curse that killed her mother. But when a mysterious man arrives at her ivy-covered, magic-fortified home, it's clear her mother's killer has finally come to destroy the rest of the Hemlock bloodline. Before Jo can even think about fighting back, she must figure out who she's fighting in the first place. The more truth Jo uncovers, the deeper she falls into witchcraft darker than she ever imagined. Trapped and running out of time, she begins to wonder if the very Curse that killed her mother is the only way to save everyone she loves.
Highlights:
In Whipple's story, magic is a bit dark and always requires a price of some sort – be it blood, a fingernail, or even something more significant. Jo's fierce love for her friends and family appealed to me (and I especially loved her relationship with her grandmother and other odd relatives). The romance, while I had my doubts, was sweet as it built. But the setting of Jo's house intrigued me the most, and I couldn't get enough of the scenes that took place there. Secrets, magic, and more,
House of Ivy & Sorrow
entertains in each and every chapter.
Lowlights: Despite the darker moments, Jo's youthful personality causes this story to feel a bit younger (which isn't necessarily a problem, merely unexpected). I found the self-harm (for the sake of magic) to be a bit disconcerting as well.
Rating: The Royal Library, Bottom Shelf
(very low 4 out of 5).
House of Ivy & Sorrow
is great and probably worth purchasing (especially if it's on sale). If I do purchase this story, it only earns a spot on the bottom shelves of the royal library. I enjoyed it enough to want to read it more than once, but I do have some issues with the story that I cannot ignore.