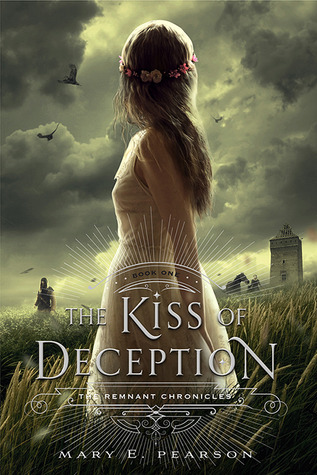 Title:
The Kiss of Deception
Author:
Mary E. Pearson
Published: July 8th, 2014
Series: The Remnant Chronicles #1
Genre: YA Fantasy
POV: 1st person, multiple
Pages: 492
Publisher: Henry Holt
Format: printed ARC
Source: Publicist / Publisher
Rating:
The Royal Library, Top Shelf
In this timeless new trilogy about love and sacrifice, a princess must find her place in a reborn world.

In a society steeped in tradition, Princess Lia's life follows a preordained course. As First Daughter, she is expected to have the revered gift of sight—but she doesn't—and she knows her parents are perpetrating a sham when they arrange her marriage to secure an alliance with a neighboring kingdom—to a prince she has never met.

On the morning of her wedding, Lia flees to a distant village. She settles into a new life, hopeful when two mysterious and handsome strangers arrive—and unaware that one is the jilted prince and the other an assassin sent to kill her. Deception abounds, and Lia finds herself on the brink of unlocking perilous secrets—even as she finds herself falling in love.
While I previously enjoyed Pearson's
Jenna Fox Chronicles
, I never completely fell in love with her writing style or stories. But, with
The Kiss of Deception
, I was swept away to a new land, relishing every single word, and enjoying every aspect of this story fully, all from the first page. Pearson's novel defies being defined by one genre – it is a light fantasy with a dash of magic, plenty of mystery, romance, and even has a bit of a historical vibe, too. The settings range from barren to lush, and through Lia's eyes, the world springs to life.
From the summary alone,
The Kiss of Deception
initally sounded like a familiar story to me. Defiant princess, a prince, an assassin, and a romance. But through the three 1st person points of view – Lia (who narrates majority of the chapters), the Prince, and the Assassin – Pearson quickly shows readers that there's more happening within the story. These characters have quite a few secrets and tricks up their sleeves, and it was a thrill to see them revealed. Lia's a fierce and determined protagonist with a sharp tongue, and I was rooting for her from the first chapter.
The Kiss of Deception
is a smart and wonderfully written story with plenty of surprises to make it stand out.
Highlights:
The multiple POV's are not only well written, but they work. I never felt like a POV was unnecessary, and Pearson even manages to create a bit of a trick with them (which I fell for completely). Pearson's writing is lush, fluid, and lovely. I kept backtracking every now and then, to reread certain lines. While the story seems set up for a love triangle, Lia's interest is only in one
1
. Some fascinating information is revealed, and the actual ending is quite a spot to conclude. All in all, Pearson's
The Kiss of Deception
is simply marvelous and it delivered everything I could have hoped for in a novel.
Lowlights: I have to wait for the sequel, and I need it now. That is a definite lowlight!
1
I approve of her choice, and the way the romance is building slowly. *swoons*