THE MURDER COMPLEX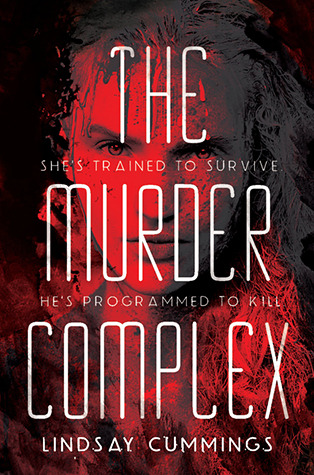 Title:
The Murder Complex
Author: Lindsay Cummings
Published: June 10th, 2014
Series: The Murder Complex #1
Genre: YA dystopian
POV: 1st person, alternating
Pages: 398
Publisher: Greenwillow Books
Format: e-ARC
Source: Edelweiss
Rating: The Royal Library, Bottom Shelf
Meadow Woodson, a fifteen-year-old girl who has been trained by her father to fight, to kill, and to survive in any situation, lives with her family on a houseboat in Florida. The state is controlled by The Murder Complex, an organization that tracks the population with precision.

The plot starts to thicken when Meadow meets Zephyr James, who is—although he doesn't know it—one of the MC's programmed assassins. Is their meeting a coincidence? Destiny? Or part of a terrifying strategy? And will Zephyr keep Meadow from discovering the haunting truth about her family?
Highlights: A brutal world + action-packed story + two very different narrators = one intriguing novel. Cummings debuts with a dark, gory novel filled with plenty of secrets and surprises to keep her readers on their toes. Familial bonds, even if a bit intense, were nice to see. I do believe Zepher's story is initially the more intriguing, but both of their narrations quickly intertwine and become equally fascinating. The beginning is slow, but the novel finishes with a bang that will leave readers curious for so much more.
Lowlights: I wish the romance hadn't of happened. It's not the fastest-paced romance I've read, but I think they could do with a slower relationship considering everything that happens in the book. I'm also a bit confused about the brutality of their world. Explanations are provided, but they seem a bit illogical.
Rating: The Royal Library, Bottom Shelf (low 4 out of 5).
SLEEP NO MORE
Title:
Sleep No More
Author: Aprilynne Pike
Published: April 29th, 2014
Series: Charlotte Westing Chronicles #1
Genre: YA paranormal
POV: 1st
Pages: 340
Publisher: HarperTeen
Format: electronic ARC
Source: Edelweiss
Rating: The Dungeons
Charlotte Westing has a gift. She is an Oracle and has the ability to tell the future. But it doesn't do her much good. Instead of using their miraculous power, modern-day Oracles are told to fight their visions—to refrain from interfering. And Charlotte knows the price of breaking the rules. She sees it every day in her wheelchair-bound mother and the absence of her father. But when a premonition of a classmate's death is too strong for her to ignore, Charlotte is forced to make an impossible decision: continue following the rules or risk everything—even her sanity—to stop the serial killer who is stalking her town
Highlights: I've always been fascinated by stories about oracles and seeing the future. There's something inherently intriguing about knowing what's going to happen in the future. And, Charlotte's visions didn't disappoint - they're gritty, dark, terrifying, and captivating. Her gift come with a price, and a truly unfair burden on Charlotte. The motives behind the killings was the only reason I kept reading, and I found the truth behind that to be intriguing.
Lowlights:
One of the largest problems I had with
Sleep No More
was that I simply did not care - about the characters, about the story, about the writing. If I wasn't so determined to finish books, I would have stopped reading this one 50 pages in. But, setting this book aside was still an easy thing to do, mostly because everything felt predictable to me
1
. And Charlotte? It took everything I had in me to root for a girl who is so stupid and foolish
2
. The romance was also underwhelming and kind of out of place.
Rating: The Dungeons
(2 out of 5).
Sleep No More
had a couple good moments, but it also had many lowlights. I like this story enough not to exile it from the Queendom, but I'm quite annoyed with it, too. So, this novel gets to spend some time in the dungeons. I'd recommend reading a few chapters to see if
Sleep No More
is for you - it may not be my cup of tea, but it might be yours!
1 I usually find it easy to unravel a mystery early on. In this case, it seemed too easy to guess the bad guy, because it was so obvious, but at least the motive kept me intrigued until the end.
2 I realize that we all make stupid mistakes when we're teenagers, but Charlotte makes huge, harmful mistakes. All it would have taken was opening up to her aunt, being honest, and so much trouble could have been avoided.
THE FURY
Title:
The Fury
Author: Alexander Gordon Smith
Published: July 2013
Series: The Fury #1
Genre: YA horror
POV: 3rd person
Pages: 688
Publisher: Farrar, Straus, and Giroux
Format: print ARC
Source: Publicist
Rating: DNF
Imagine if one day, without warning, the entire human race turns against you, if every person you know, every person you meet becomes a bloodthirsty, mindless savage . . . That's the horrifying reality for Cal, Brick, and Daisy. Friends, family, even moms and dads, are out to get them. Their world has the Fury. It will not rest until they are dead.
In Alexander Gordon Smith's adrenaline-fueled saga, Cal and the others must uncover the truth about what is happening before it destroys them all. But survival comes at a cost. In their search for answers, what they discover will launch them into battle with an enemy of unimaginable power.
Highlights:
Brutal, terrifying, and intense,
The Fury 
moves at a quick pace as it follows three very different protagonists during an incredibly horrifying time. Just imagine - one day, everyone you know and love turns on you, eagerly taking any chance they can to tear you apart (figuratively, and eventually, literally). As a horror fan, this book was intriguing to me. There are moments in the beginning where this intense, deadly hatred builds slowly and terrifyingly.
Lowlights: This is one of the few novels I couldn't bring myself to finish reading. While there were aspects I enjoyed, I couldn't get into the author's writing style. The POV switches and characters bothered me, until I finally got to a point where I simply couldn't care enough to finish.
Rating: DNF (did not finish), so there will be no rating for this book. If you're looking for a action-packed, horror novel, I'd recommend giving this one a shot. It didn't work for me, but plenty of other readers seem to be enjoying it.