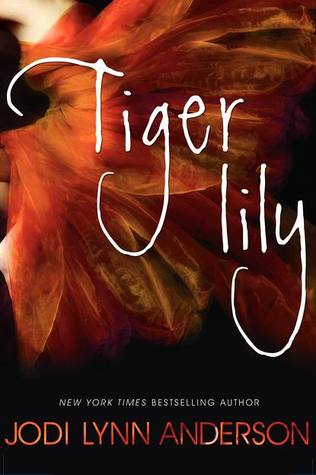 Title:
Tiger Lily
Author:
Jodi Lynn Anderson (@jodilynna)
Published:
July 3rd, 2012
Series:
N/A
Genre:
YA fantasy
Publisher:
HarperTeen
POV:
1st person / 3rd person
Pages:
309
Format:
Kindle Book
Source:
Purchased
Rating:
The Royal Library, Top Shelf
Before Peter Pan belonged to Wendy, he belonged to the girl with the crow feather in her hair. . . .

Fifteen-year-old Tiger Lily doesn't believe in love stories or happy endings. Then she meets the alluring teenage Peter Pan in the forbidden woods of Neverland and immediately falls under his spell.

Peter is unlike anyone she's ever known. Impetuous and brave, he both scares and enthralls her. As the leader of the Lost Boys, the most fearsome of Neverland's inhabitants, Peter is an unthinkable match for Tiger Lily. Soon, she is risking everything—her family, her future—to be with him. When she is faced with marriage to a terrible man in her own tribe, she must choose between the life she's always known and running away to an uncertain future with Peter.

With enemies threatening to tear them apart, the lovers seem doomed. But it's the arrival of Wendy Darling, an English girl who's everything Tiger Lily is not, that leads Tiger Lily to discover that the most dangerous enemies can live inside even the most loyal and loving heart.
My Thoughts
When it came to
Tiger Lily
, my interest level was decidedly
zero
. For some reason, the summary never caught my attention, and even though I love retellings and Tinker Bell, I'm barely familiar with the tale of Peter Pan and only know the basic information. So, this book really didn't interest me at all
1
. Yet, I have a weakness for Kindle deals
2
, so I took a chance on spending two dollars and decided to give it a shot. In the two days it took to read this story, I was captivated, overwhelmed, and completely surprised by how exceptional of a story
Tiger Lily
proved to be.
Narrated by Tinker Bell, the story focuses on Tiger Lily, a member of the Sky Eater tribe, and her relationship with Peter Pan of the Lost Boys. There's romance and friendship, fun games and boring chores, deadly pirates and eavesdropping fairies, bitter betrayal and cold jealousy, hungry crocodiles and conniving mermaids, and so much more. The world in this story is so
full
, brimming with life and characters that demand your attention. I had no idea what to expect, but I definitely was not anticipating such an emotional story that brings up larger issues.
Tiger Lily
is the type of story that delves into familiar territory, but brings something new to such an old tale. Emotional and evocative,
Tiger Lily
is a story that you shouldn't miss out on.
Highlights
There are some small moments where Anderson's words pulled at my emotions. There are truly some lovely and wonderful (and wonderfully sad) lines in this story. Tinker Bell's love for these characters was infectious, and it was easy to adore them too. This isn't just a tale about romance, but of family, friendship, and the great and terrible things we do for the people we love. This book is more about emotion, than anything else, and Anderson brings it all right to surface for her readers to feel.
Lowlights
Tinker Bell focuses so much Tiger Lily, this story reads like a 3rd person novel. It would have been nice to know more about Tink, to hear a bit more about herself.
Final Rating
The Royal Library, Top Shelf
. This book is so close to 5 stars, but it's not quite there. Regardless,
Tiger Lily
has earned a spot on my top shelf, and is a story worth reading. I highly recommend it.
1 Even all the fangirling from the lovely Epic Reads ladies didn't convince me. I obviously should have listened to them. Those gals have great bookish taste. LESSON LEARNED.
2 Seriously, it's sad. I see a YA Kindle deal, and I pounce.