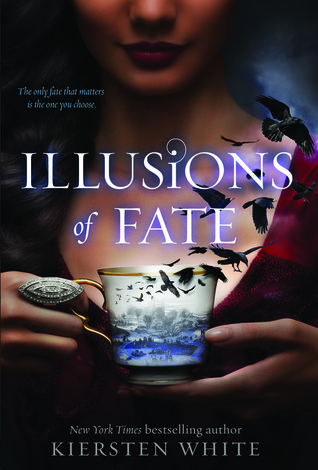 Title:
Illusions of Fate
Author:
Kiersten White
(
@kierstenwhite
)
Published: September 9th, 2014
Series: N/A
Genre: YA fantasy
POV: 1st person
Pages: 288
Publisher: HarperTeen
Format: Hardcover
Source: Publisher
Rating: The Royal Library, Middle Shelf
Downton Abbey meets Cassandra Clare in this lush, romantic fantasy from New York Times bestselling author Kiersten White.



"I did my best to keep you from crossing paths with this world. And I shall do my best to protect you now that you have."



Jessamin has been an outcast since she moved from her island home of Melei to the dreary country of Albion. Everything changes when she meets Finn, a gorgeous, enigmatic young lord who introduces her to the secret world of Albion's nobility, a world that has everything Jessamin doesn't—power, money, status…and magic. But Finn has secrets of his own, dangerous secrets that the vicious Lord Downpike will do anything to possess. Unless Jessamin, armed only with her wits and her determination, can stop him.
For such a short novel, there is so much happening in
Illusions of Fate.
White builds the setting, which has a bit of a historical vibe, wondrously. It is both familiar and other, and the magic system that is in place in this world is equally fascinating and well written. Jessamin is a dedicated scholar from the island of Melei, studying on Albion in hopes of gaining more knowledge. From the first chapter, she displays her sharp, endearing sense of humor and her good intentions. She's a fiercely determined girl, so when she finds herself wrapped up in a magical feud, Jessamin uses her natural strengths to figure out the best way to solve everyone's problems.
Illusions of Fate
is a wonderful story filled with action, excitement, humor, romance, and one seriously awesome bird.
Highlights: Jessamin is a strictly normal girl living in a city with magic, and it's fantastic to read a story where the heroine must rely on herself and her intelligence to get out of messy situations. Plus, she's incredibly amusing, making her voice a fun one to read. Side characters are incredibly well done, from Eleanor (who is so much more than you'd initially expect) to Lord Downpike (who is incredibly creepy). The setting of Albion is vividly brought to life, as is Melei, despite the fact that Melei is a setting we never really get to visit within the story. White creates the perfect balance between dark, intense moments and light, amusing ones, which makes this a fantastic story overall.
Lowlights:
I feel like the romance developed strangely - I can't really wrap my head around it. I wish the story had been a bit longer, it would have been nice to spend more time with Jessamin, Eleanor, Finn, and Sir Bird. Also, my favorite side character was murdered
1
, so thanks for breaking my heart, Kiersten White.
Rating: The Royal Library, Middle Shelf (4.3 out of 5)
.
Illusions of Fate
is fantastic, worth owning, and has earned a spot in the royal library. I enjoyed this story very much, despite a few small issues, and would absolutely recommend
Illusions of Fate
to other readers.
1 Why do author's keep killing the best side characters?! *cries*
I received a copy of this novel from the publisher for review consideration.
This is no way affected my opinion of the novel.