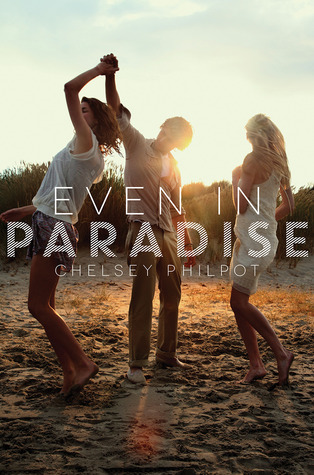 Title:
Even In Paradise
Author:
Chelsey Philpot
(
@ChelseyPhilpot
)
Published: October 14th, 2014
Series: N/A
Genre: Contemporary
POV: 1st
Pages: 368
Publisher: HarperCollins
Format: electronic ARC
Source: Edelweiss
Rating: The Royal Library, Bottom Shelf
When Julia Buchanan enrolls at St. Anne's at the beginning of junior year, Charlotte Ryder already knows all about the former senator's daughter. Most people do... or think they do.

Charlotte certainly never expects she'll be Julia's friend. But almost immediately, she is drawn into the larger than-life-new girl's world—a world of midnight rendezvous, dazzling parties, palatial vacation homes, and fizzy champagne cocktails. And then Charlotte meets, and begins falling for, Julia's handsome older brother, Sebastian.

But behind her self-assured smiles and toasts to the future, Charlotte soon realizes that Julia is still suffering from a tragedy. A tragedy that the Buchanan family has kept hidden … until now.
Even In Paradise
tiptoes quietly into the life of luxury, giving readers a glimpse into a magnetic friendship and a family hiding a secret. Despite how absurdly easy it was to guess the big secret,
Even In Paradise
managed to give me something more fascinating to focus on: Charlie and Julia's friendship, and Charlie's growth as a character from beginning to end. Being taken in under Julia's wing gives Charlie the chance to glimpse a different life from her own, and it's a life that is as dark as it is vibrant.
Even In Paradise
is a story where you know things cannot possibly work out perfectly or end in the way you hope, and Philpot executes this story in a perfect, bittersweet fashion. A story about falling in love (both romantically and in the friendship sense),
Even In Paradise
is a charming debut that will capture your heart.
Highlights: I'm not sure if it's intentional, but this story is reminiscent of The Great Gatsby – from the names to the glimpses of the upper class, and it's a very nice vibe. There are some moments between chapters where Philpot includes short snippets and scenes, and they feel like glimpses into something that you're not quite sure of at the moment – kind of like overhearing a conversation. Both girls are wonderfully realistic and complicated as they stumble through life and make mistakes. Also, descriptions are quite lovely at times.
Lowlights: I dislike (but understand) how Charlotte could pull away and ignore her old friends, and her dependence on Julia grew tiresome. Yet, those actions made her realistic. The secret was also incredibly obvious from the very beginning, so that was hardly a mystery.