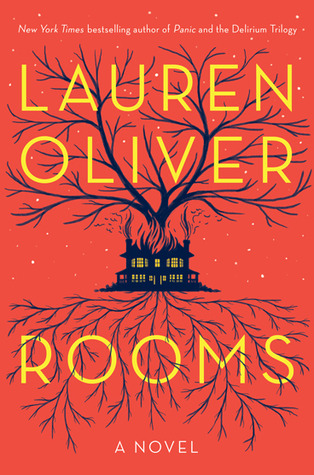 Title:
Rooms
Author:
Lauren Oliver
Published: September 23rd, 2014
Series: N/A
Genre: Adult Paranormal
POV: 1st & 3rd, multiple
Pages: 320
Publisher: Ecco
Format: Print ARC
Source: Vine Program
Rating: The Royal Library, Bottom Shelf
Wealthy Richard Walker has just died, leaving behind his country house full of rooms packed with the detritus of a lifetime. His estranged family—bitter ex-wife Caroline, troubled teenage son Trenton, and unforgiving daughter Minna—have arrived for their inheritance.


But the Walkers are not alone. Prim Alice and the cynical Sandra, long dead former residents bound to the house, linger within its claustrophobic walls. Jostling for space, memory, and supremacy, they observe the family, trading barbs and reminiscences about their past lives. Though their voices cannot be heard, Alice and Sandra speak through the house itself—in the hiss of the radiator, a creak in the stairs, the dimming of a light bulb.

The living and dead are each haunted by painful truths that will soon surface with explosive force. When a new ghost appears, and Trenton begins to communicate with her, the spirit and human worlds collide—with cataclysmic results.
I've been a fan of Lauren Oliver's work since I was fortunate enough to receive an advanced review of her debut,
Before I Fall
. Since then, I've devoured all of her books, and happily purchased them so I could savor her writing style. Oliver has a way with words, and the ability to evoke strong emotions through her work.
Rooms
, Oliver's first adult novel, does not disappoint, but it also did not quite live up to my expectations.
Told in the first person POV's of Alice and Sandra (ghosts in the recently deceased Richard Walker's house), and in third person POV's from Walker's ex-wife Caroline, his daughter Minna, his son Trenton, and granddaughter Amy. Needless to say, there's a lot switching between characters and POV style, and yet Oliver never lets it become confusing. Each character has their own specific tone, and way of thinking / speaking. And, they each have their own secrets, which are quickly unraveled as the new living residents clear out the rooms of this old house.
Highlights: Evocative and gritty, Oliver displays her characters as who they are - they try to keep up appearances, but underneath, they are broken or breaking. None of them are perfect, and only little Amy seems to be the purest, sweetest of them all. The secrets uncovered at the end were heartbreaking, and made the rest of the story make sense as the pieces of the puzzle came together.
Lowlights:
I felt distanced from the characters. I'm used to getting swept up in Oliver's work, so that distance was unfortunate. I know that Oliver can write unlikable characters and still make me care (such as in
Before I Fall
), but with
Rooms
, I found myself growing bored with the story and characters. The only reason I didn't stop reading was because I wanted to see how it ended, and because I enjoy the way Oliver writes.
Rating: The Royal Library, Bottom Shelf (low 4 out of 5)
. I highly enjoyed
Rooms
, but I was expecting a bit more from a Lauren Oliver novel. Regardless, this story is definitely worth checking out.
My Reviews Of Other Works By Lauren Oliver
I received an advanced copy of this novel for review consideration
This is in no way affected my opinion of this novel.