Top Ten Tuesday is hosted by
The Broke and the Bookish
2.
The Night Circus
by Erin Morgenstern - Not YA, but I'll let it slide because of the coolness of that cover.
4.
Matched
by Ally Condie - It. Is. So. Beautifully. Beautiful. And symbolic. I would totally put a poster of this cover on my wall.
5.
Through to You
by Emily Hainsworth - Eerie, lovely colors, nice fading font. Definitely poster-worthy.
6.
Ice
&
Vessel
by Sarah Beth Durst - I figured this could be a two for one since they're both written by the same author. And aren't they both gorgeous and striking? Absolutely stunning.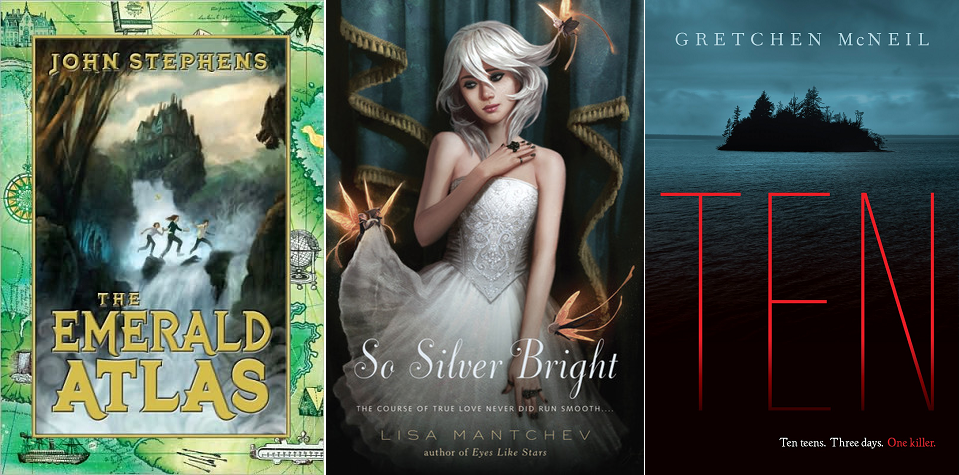 7.
The Emerald Atlas
by John Stephens - I think I have a soft spot for illustrated covers. This is not YA (again), but regardless, it looks so fun, adventurous, and kind of fairytale-like. I love it when covers tell a story :)
8. So Silver Bright
by Lisa Mantchev - I still haven't caught up with these books, but the covers are all just lovely and fantastical.
9.
Ten
by Gretchen McNeil - I usually hate big in-your-face font, but this cover totally works. Super creepy vibe. I totally wouldn't want to go to that island.
10.
The Luxe
series by Anna Godbersen - I know, I know. It's your typical "girl in a pretty dress" cover, but these dresses are
really
pretty. Although, they're probably a nightmare to walk around in ;)
11.
The Opposite of Hallelujah
by Anna Jarzab - I couldn't resist not sneaking this in. The dark, muted shades make it so haunting. I usually dislike up-close covers, but I love this one.
So hard to narrow it down, I love too many covers.


What's your favorite YA book cover?

Images from Goodreads