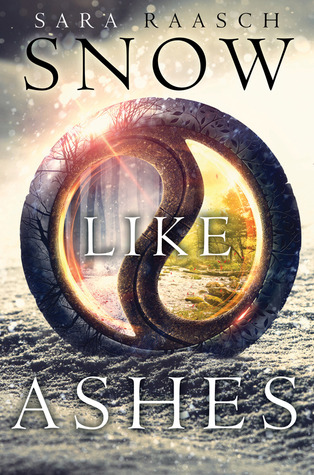 Title:
Snow Like Ashes
Author: Sara Raasch (
@seesarawrite
)
Published: October 2014
Series: Snow Like Ashes #1
Genre: YA Fantasy
POV: 1st person, present tense
Pages: 432
Publisher: Balzer + Bray
Format: electronic ARC
Source: Edelweiss / HarperCollins
Rating: The Royal Library, Top Shelf
Sixteen years ago the Kingdom of Winter was conquered and its citizens enslaved, leaving them without magic or a monarch. The Winterians' only hope for freedom is the eight survivors who managed to escape, and who have been searching for the opportunity to steal back Winter's magic and rebuild their kingdom ever since.

Orphaned as an infant during Winter's defeat, Meira has lived her whole life as a refugee. Training to be a warrior—and desperately in love with her best friend, Winter's future king—she would do anything to help Winter rise to power again. So when scouts discover the location of half of the ancient locket that can restore their magic, Meira decides to go after it herself—only to find herself thrust into a world of evil magic and dangerous politics, and to realize that her destiny is not, never has been, her own.
Highlight:

Secrets.

MORE SECRETS. ALL THE SECRETS. Granted, I did guess one big one, but I was still intrigued from start to finish.
Highlight:

Characters.

Meira is stubborn, smart, determined, and my kind of narrator. And, the side characters are wonderful as well. From the good guys to the bad guys, Raasch makes everyone feel realistic and distinct.
Lowlight:

Initially, confusing.

Maybe it was just me, but reading the first chapter felt like I was stumbling around in the dark with a faulty flashlight and I had no idea what was happening or where everyone was. I think a map would have helped (which my ARC did not have, but I believe the final version does). I simply found it difficult to get into the beginning and to navigate the world, but once I went back and pushed forward, everything fell into place.
Highlight:
World.
Once I started to understand the layout and the differences in the various kingdoms, this world became quite fascinating. Raasch creates a lush world with magic, and such scenic kingdoms that I felt like I could see the ones that were described vividly. I cannot wait to explore the rest of this world.
Highlight:
Adventure.
Snow Like Ashes
begins with adventure, and Raasch only continues to push Meira further out into her world. The search for part of the locket and goal of restoring the Kingdom of Winter drives Meira and her fellow Winterians throughout the entire story, but there are plenty of obstacles in their path.
Highlight:
Fight scenes.
I love a good fight scene, and
Snow Like Ashes
doesn't disappoint. Meira is confident in her abilities, especially with a chakram. This is a girl who does not wait around for the male characters to save her - she takes action, she argues, and she fights for everything she believes in.
Lowlight:

Love triangle.

I cannot wait until this stops being a thing in YA lit.
Highlight:
Light + adorable romance.
HOWEVER, Raasch writes it well. While there are two boys in Meira's life, one is a longtime crush with (unfortunately) little chance and the other is a an adorable, budding romance that has its own complications. Fortunately, this story kept the romance simple, sweet, and sometimes amusing.
Highlight:
Politics.
It kind of reminds me a bit of Rae Carson's
The Girl of Fire and Thorns
, where there is some focus on politics and doing whatever is necessary to create peace between kingdoms. But, of course, things do not go completely as planned. Every deal and betrayal kept me hooked, and there are a few surprises.
Rating: The Royal Library, Top Shelf: Loved, 4+ out of 5
. Once I pushed through the first few chapters, I was hooked.
Snow Like Ashes
is an action-packed adventure through a vivid world full of magic, secrets, and lies. Love, loss, betrayal, secrets, rebellions, friendship, evil rulers....this book has everything I love in a story, and I'm excited to have a new YA fantasy series & world to explore.
I received an advanced copy of this novel from the publisher for review consideration.
This is no way affected my opinion of the novel.