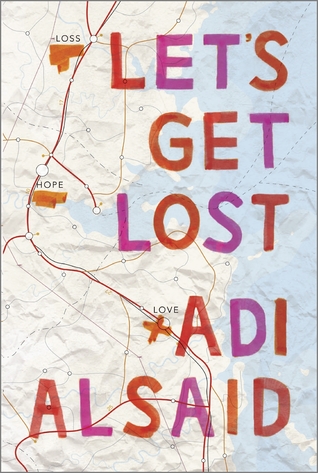 Title:
Let's Get Lost
Author:
Adi Alsaid
(
@AdiAlsaid
)
Published: July 2014
Series: N/A
Genre: YA Contemporary
POV: five 3rd person narrations
Pages: 352
Publisher: HarlequinTeen
Format: Print ARC
Source: Vine Program
Rating: The Royal Library, Middle Shelf
Five strangers. Countless adventures. One epic way to get lost.

Four teens across the country have only one thing in common: a girl named LEILA. She crashes into their lives in her absurdly red car at the moment they need someone the most.

There's HUDSON, a small-town mechanic who is willing to throw away his dreams for true love. And BREE, a runaway who seizes every Tuesday—and a few stolen goods along the way. ELLIOT believes in happy endings…until his own life goes off-script. And SONIA worries that when she lost her boyfriend, she also lost the ability to love.

Hudson, Bree, Elliot and Sonia find a friend in Leila. And when Leila leaves them, their lives are forever changed. But it is during Leila's own 4,268-mile journey that she discovers the most important truth— sometimes, what you need most is right where you started. And maybe the only way to find what you're looking for is to get lost along the way.
Highlights:
I'm incredibly critical when it comes to novels with multiple points-of-view. So, I was pleasantly surprised to find myself thoroughly enjoying each perspective in Alsaid's
Let's Get Lost
. In each story, the characters find themselves traveling down quite a bumpy road. Their lives are messy, and Leila's attempts to help sometimes complicate things further. Each mini-story stands alone, but the themes in each connect them all to one another. Sonia's story is my favorite, although all five mini-stories are very well done. The truth about Leila's past is heartbreaking, and it made many small moments with her make so much more sense.
Lowlights: Despite the many messy beginnings, things work out a little too perfectly to be realistic. But, I'm a sucker for a happy ending, so it didn't bother me too much. And, even though the multiple POV's were well done, I didn't feel like I spent enough time with each character to fully connect with them and their situations.
I received an advanced copy of this novel in exchange for an honest review.
This is no way affected my opinion of the novel.