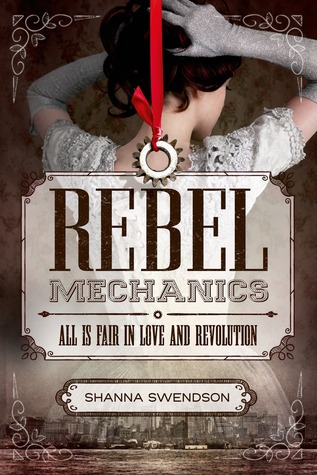 Title:
Rebel Mechanics
Author: Shanna Swendson
Published: July 14th, 2015
Series: Rebel Mechanics #1
Genre: YA steampunk/historical
Pages: 320
Publisher: Farrar, Straus & Giroux
Format: Print ARC
Source: Publisher
Rating:
Really Liked
A sixteen-year-old governess becomes a spy in this alternative U.S. history where the British control with magic and the colonists rebel by inventing.

It's 1888, and sixteen-year-old Verity Newton lands a job in New York as a governess to a wealthy leading family—but she quickly learns that the family has big secrets. Magisters have always ruled the colonies, but now an underground society of mechanics and engineers are developing non-magical sources of power via steam engines that they hope will help them gain freedom from British rule. The family Verity works for is magister—but it seems like the children's young guardian uncle is sympathetic to the rebel cause. As Verity falls for a charming rebel inventor and agrees to become a spy, she also becomes more and more enmeshed in the magister family's life. She soon realizes she's uniquely positioned to advance the cause—but to do so, she'll have to reveal her own dangerous secret.
Highlights: Rebel Mechanics plays with history and gives it a delightfully alternate twist, where magic powers nineteenth century life and the wealthy families who wield it will do anything to keep the normal citizens from using more creative, mechanical methods to gain some power of their own. An incredibly fun and magical steampunk story, Rebel Mechanics is sure to entertain readers with its many curious inventions, secrets, and deceptions (not to mention Lord Henry, he is quite charming and I wish there had been so much more of him in the story).
Lowlights: I wanted to love this book - steampunk! Rebels! Magic! But despite all the pros, I felt like something wasn't quite there. As a narrator, Verity can be pretty naive, which can get a bit frustrating at times. Characters, overall, while interesting, were not developed enough to really have a spark - there wasn't enough about them to capture my interest or attention. I think it's merely a matter of writing style, and this book being enjoyable enough but not entirely to my preferences. Additionally, the story was incredibly predictable, so all of the "surprises" were not very surprising.

Final Thoughts: My lowlights make it sound like I didn't enjoy the story - quite the opposite, I was entertained throughout the entire novel. But, as much fun as the story proved to be, it didn't make a memorable impression. However, many readers are falling head-over-heels for this story, so I'd recommend checking it out if you're a YA steampunk / historical fan!
I received an advanced copy of this novel from the publisher for review consideration.
This is no way affected my opinion of the novel.