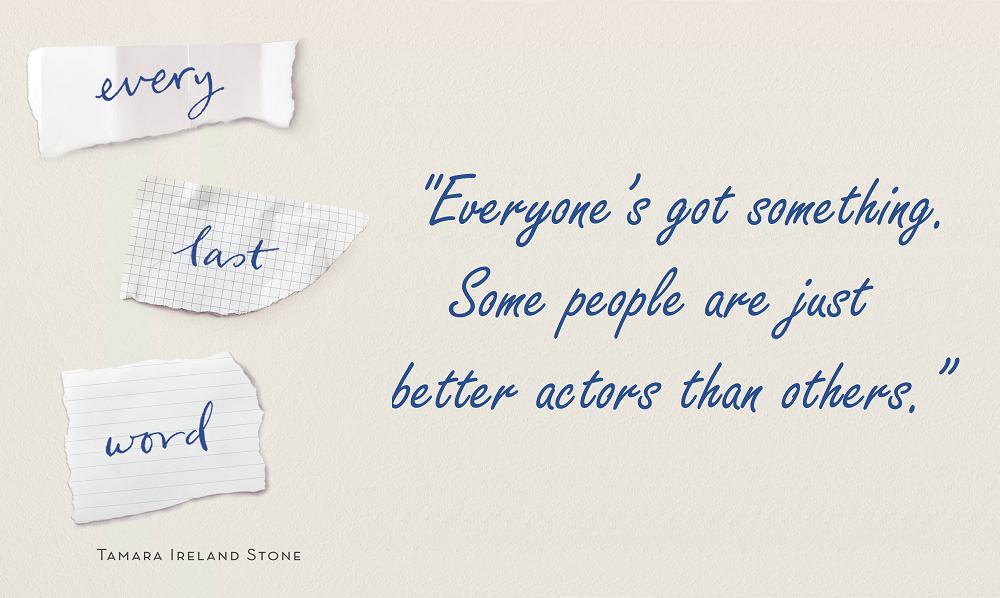 Title:
Every Last Word
Author: Tamara Ireland Stone
Published: June 16th 2015
Series: N/A
Genre: YA contemporary
POV: 1st person
Pages: 368
Publisher: Disney Hyperion
Format: electronic ARC
Source: Netgalley / Publisher
Rating:
Loved
If you could read my mind, you wouldn't be smiling.
Samantha McAllister looks just like the rest of the popular girls in her junior class. But hidden beneath the straightened hair and expertly applied makeup is a secret that her friends would never understand: Sam has Purely-Obsessional OCD and is consumed by a stream of dark thoughts and worries that she can't turn off.
Second-guessing every move, thought, and word makes daily life a struggle, and it doesn't help that her lifelong friends will turn toxic at the first sign of a wrong outfit, wrong lunch, or wrong crush. Yet Sam knows she'd be truly crazy to leave the protection of the most popular girls in school. So when Sam meets Caroline, she has to keep her new friend with a refreshing sense of humor and no style a secret, right up there with Sam's weekly visits to her psychiatrist.

Caroline introduces Sam to Poet's Corner, a hidden room and a tight-knit group of misfits who have been ignored by the school at large. Sam is drawn to them immediately, especially a guitar-playing guy with a talent for verse, and starts to discover a whole new side of herself. Slowly, she begins to feel more "normal" than she ever has as part of the popular crowd . . . until she finds a new reason to question her sanity and all she holds dear.
Highlights:
Beautifully written and powerful,
Every Last Word
is an exceptional story. Mental illness can be difficult to write, but Tamara Ireland Stone does so in a respectful, realistic way. Sam is such a realistic character, and an easy narrator to like. The rest of the characters are vibrant, and I love the idea of a hidden high school poetry society. I tend to be excellent at guessing twists, but this novel took me by surprise in the end. I especially appreciate the fact that
Every Last Word
encourages seeking professional help - that's a message that isn't always included in novels dealing with mental illness, so I'm glad to see it here since it is so important.
Lowlights: I can't think of anything that really stuck out in a bad way. I enjoyed this book from start to finish.
Final Thoughts
:
Every Last Word
is a special story that will make you laugh, cry, and wish you had your own secret poetry society (I WANT ONE SO BADLY). I'd recommend giving it a chance and checking it out!
I received an advanced copy of this novel from the publisher for review consideration.
This is no way affected my opinion of the novel.