THE PREY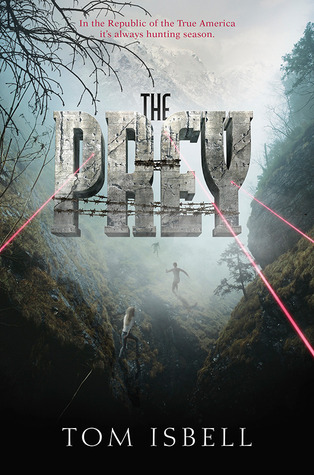 Title:
The Prey
Author: Tom Isbell (
@TomIsbell
)
Published: January 2015
Series: The Prey #1
Genre: YA Dystopian
Pages: 404
Publisher: HarperTeen
Format: Hardcover
Source: Publisher (unsolicited)
Find on:
Amazon
|
B&N
|
Book Depository
|
Goodreads
Rating:
Okay
A hot debut trilogy and a riveting story of survival, courage, and romance in a future where creating a master civilization is the only thing prized, no matter the method. After the Omega (the end of the end), 16 year old guys known as LTs discover their overseers are raising them not to be soldiers (lieutenants) as promised, but to be sold as bait because of their Less Than status and hunted for sport. They escape and join forces with a girls' camp, the Sisters, who have been imprisoned and experimented on for the "good of the Republic," by a government eager to use twins in their dark research. In their plight for freedom, these heroes must find the best in themselves to fight against the worst in their enemies.
Highlights: The Prey undeniably begins in an intriguing and utterly brutal world. And once the story gets going, Isbell keeps increasing the intensity as the stakes get higher and the characters are forced to fight for their survival. The action scenes are especially thrilling.
Lowlights: Despite all of the action and mystery, I wasn't really interested in the story or the characters. The characters especially seemed very bland and stereotypical, which made it hard for me to care about them, let alone want to know what happens next for them. While the world is intriguing, it's also very small - Isbell keeps vague about details that could expand this world, and centers the story in a handful locations. All in all, the writing style and this story wasn't for me.
THE GOOD GIRLS
Title:
The Good Girls
Author:
Sara Shepard
(
@sarabooks
)
Published: June 2nd, 2015
Series: The Perfectionists #2
Genre: YA mystery/thriller
POV: 3rd, multiple
Pages: 368
Publisher: HarperTeen
Format: Hardcover
Source: Publisher (unsolicited)
Find on:
Amazon
|
B&N
|
Book Depository
|
Goodreads
Rating:
Really Liked
From Sara Shepard, author of the #1 New York Times bestselling Pretty Little Liars series, comes the shocking sequel to The Perfectionists--with an ending you'll have to read to believe!

Mackenzie, Ava, Caitlin, Julie, and Parker have done some not-so-perfect things. Even though they all talked about killing rich bully Nolan Hotchkiss, they didn't actually go through with it. It's just a coincidence that Nolan died in exactly the way they planned . . . right? Except Nolan wasn't the only one they fantasized about killing. When someone else they named dies, the girls wonder if they're being framed. Or are they about to become the killer's next targets?
Highlights: The girls from The Perfectionists are back, and if you think you know what's going to happen in this book, guess again. The killer steps up their game in this story, leaving no one safe as the body count rises and the mystery builds. And Shepard makes it quite a fun mystery to unravel. Even after I correctly guessed the Big Bad, Shepard still manage to throw in another plot twist that completely blew my mind and left me with the desire to reread the first novel in order to see how I could have possibly missed it. The Good Girls is a thrilling sequel that pull you in with exciting chapters and twists.
Lowlights: The characters still don't feel like real people. They're easy to differentiate from one another, but the constant jumping back and forth in POV makes it hard to really connect with them or even see them as fully-developed characters.
MESSENGER OF FEAR
Title:
Messenger of Fear
Author:
Michael Grant
(
@MichaelGrantBks
)
Published: September 2014
Series: Messenger of Fear #1
Genre: YA paranormal
Pages: 272
Publisher: Katherine Tegen Books
Format: Hardcover
Source: Publicist (unsolicited)
Find on:
Amazon
|
B&N
|
Book Depository
|
Goodreads
Rating:
Great
I remembered my name – Mara. But, standing in that ghostly place, faced with the solemn young man in the black coat with silver skulls for buttons, I could recall nothing else about myself.



And then the games began.





The Messenger sees the darkness in young hearts, and the damage it inflicts upon the world. If they go unpunished, he offers the wicked a game. Win, and they can go free. Lose, and they will live out their greatest fear.





But what does any of this have to do with Mara? She is about to find out . . .
Highlights: Grant excels at writing eerie scenes, and I was glued to this fast-paced story from the first page to the last. The Messenger himself is a fascinating side character, undoubtedly full of secrets. His job is both just and somewhat villainous, as he gives those who have done something wrong the chance to play a game in order to atone for their mistakes. Mara's time with the Messenger is predictable, but fascinating as she struggles to find out what she's doing there and why he needs her. Grant packs in a myriad of themes and ideas into such a small number of pages, but it never felt overwhelming. Instead, this creepy story packs a punch with strong morals and ideas. Excellent worldbuilding and an intriguing start to a new series, Messenger of Fear is a disturbing and haunting tale that will leave you eagerly waiting for more.
Lowlights: Fascinating story, but far too short. The twist was very predictable, and the story far too formulaic (I wonder if it was intentionally written that way, because I know Grant is skilled at writing a surprising and unique story).