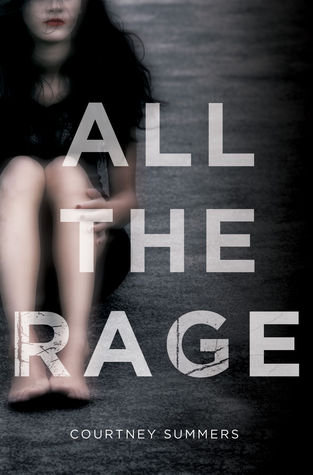 Title:
All the Rage
Author:
Courtney Summers
(
@courtney_s
)
Published: April 14th, 2015
Series: N/A
Genre: YA contemporary
POV: 1st person, past | present
Pages: 321
Publisher: St. Martin's Griffin
Format: electronic ARC | hardcover
Source: Netgalley + Publisher | Purchased
Rating: The Royal Library, Top Shelf
The sheriff's son, Kellan Turner, is not the golden boy everyone thinks he is, and Romy Grey knows that for a fact. Because no one wants to believe a girl from the wrong side of town, the truth about him has cost her everything—friends, family, and her community. Branded a liar and bullied relentlessly by a group of kids she used to hang out with, Romy's only refuge is the diner where she works outside of town. No one knows her name or her past there; she can finally be anonymous. But when a girl with ties to both Romy and Kellan goes missing after a party, and news of him assaulting another girl in a town close by gets out, Romy must decide whether she wants to fight or carry the burden of knowing more girls could get hurt if she doesn't speak up. Nobody believed her the first time—and they certainly won't now — but the cost of her silence might be more than she can bear. 

With a shocking conclusion and writing that will absolutely knock you out,All the Rage examines the shame and silence inflicted upon young women after an act of sexual violence, forcing us to ask ourselves: In a culture that refuses to protect its young girls, how can they survive?
All the Rage
features Courtney Summers usual writing style, and that's a compliment. Unflinchingly honest, this book throws harsh truths in your face and dares you to acknowledge them. Nothing is simple or easy when it comes to Romy's story, and this is not an easy read when it comes to your emotions. The novel throws all the ways we fail one another out into the open, and demands a changes in ourselves and in society when it comes to sexual assault victims. Powerful, heartbreaking, and disconcerting,
All the Rage
is an important story, and it's one that everyone should read. Borrow or buy it, but please, read this book.
Highlights: Summers' previous novels end feature complex characters and invoke strong emotions, and this book continues that trend. Romy is a flawed protagonist, and she doesn't shy away from that side of herself. Instead, she embraces her reputation, and she demands attention while also trying to fade into the background. Her relationship with her family was nicely portrayed, and I especially loved the budding romance.
Lowlights: The timeline is admittedly perplexing, but perhaps that was intentional (or maybe the ARC I read was incorrect). I was expecting Kellan to play a larger role in this story, but it has more do with Romy and the residents of the town.

Note: This is a rape story. It's the aftermath of rape, featuring the psychological effects of such horror. It features plenty of bullying and abuse. It's a bit jarring at times, but it's an important story.
Rating: The Royal Library, Top Shelf: Loved, 5 out of 5
. Courtney Summers never disappoints. Her work is daring, honest, and forces you to take a hard look at your life and society.
All the Rage
is a powerful story, and I cannot wait to see what Summers writes next.
I received an advanced copy of this novel from the publisher for review consideration.
This is no way affected my opinion of the novel.