Get Even
Title:
Get Even
Published: September 16th, 2014
Series: Don't Get Mad #1
Genre: YA contemporary | mystery
POV: 3rd person, multiple
Pages: 320
Publisher: HarperTeen
Format: Electronic ARC
Source: Edelweiss | Publisher
Rating: The Royal Library, Bottom Shelf
The Breakfast Club meets Pretty Little Liars in Gretchen McNeil's witty and suspenseful novel about four disparate girls who join forces to take revenge on high school bullies and create dangerous enemies for themselves in the process.

Bree, Olivia, Kitty, and Margot have nothing in common—at least that's what they'd like the students and administrators of their elite private school to think. The girls have different goals, different friends, and different lives, but they share one very big secret: They're all members of Don't Get Mad, a secret society that anonymously takes revenge on the school's bullies, mean girls, and tyrannical teachers.

When their latest target ends up dead with a blood-soaked "DGM" card in his hands, the girls realize that they're not as anonymous as they thought—and that someone now wants revenge on them. Soon the clues are piling up, the police are closing in . . . and everyone has something to lose.
Highlights:
A group of girls from different circles band together to get revenge on the more mean-spirited people at their school, and their antics are undeniably fascinating. But, McNeil raises the stakes by introducing a blackmailing killer, who is all too eager to put DGM (Don't Get Mad) out of business for good. Exciting, surprising, and even a little sweet and humorous at times,
Get Even
is a thrill-ride of a story.

Lowlights: It took until the halfway point before I was finally able to distinguish each girl and her life from one another. Cliffhanger ending. It felt slightly too long, and there were too many moments where I was already a few steps ahead of the characters.
Rating: The Royal Library, Bottom Shelf: Really Liked, 3+ or 4- out of 5
. Just when everything begins to become intriguing, it concludes! But fortunately, the sequel wraps everything up and gives readers the chance to get to know each main character more.
Get Dirty
Title:
Get Dirty
Published: June 16th, 2015
Series: Don't Get Mad #2
Genre: YA contemporary | mystery
POV: 3rd person, multiple
Pages: 384
Publisher: HarperTeen
Format: Electronic ARC
Source: Edelweiss | Publisher
Rating: The Royal Library, Bottom Shelf
The members of Don't Get Mad aren't just mad anymore . . . they're afraid. And with Margot in a coma and Bree stuck in juvie, it's up to Olivia and Kitty to try to catch their deadly tormentor. But just as the girls are about to go on the offensive, Ed the Head reveals a shocking secret that turns all their theories upside down. The killer could be anyone, and this time he—or she—is out for more than just revenge.

The girls desperately try to discover the killer's identity as their personal lives are falling apart: Donté is pulling away from Kitty and seems to be hiding a secret of his own, Bree is under house arrest, and Olivia's mother is on an emotional downward spiral. The killer is closing in, the threats are becoming more personal, and when the police refuse to listen, the girls have no choice but to confront their anonymous friend . . . or die trying.
Highlights:
The killer from
Get Even
isn't gone yet, and they want Bree, Margot, Kitty, and Olivia to suffer. The stakes are higher, the death rate increases, the secrets multiply, and the mystery only builds with each new revelation. Family and friendship, shockingly, become a much more important part of the story in this novel.
Lowlights: My #1 suspect from the first novel was, in fact, the Big Bad. A few things were rather obvious, to me at least. I kind of feel like if pieces of this book had been combined with pieces of the first, it would have made an incredibly entertaining mystery. Separately, I couldn't help but to feel like it was one book too many for a mystery that should have been solved in the first novel.
Rating: The Royal Library, Bottom Shelf: Really Liked, 3+ or 4- out of 5
. Readers who pay close attention will likely be able to spot a few reveals before they happen, but McNeil still manages to make a few mysteries quite surprising. I'd recommend this duology to anyone who is in need of a good mystery.
The Perfectionists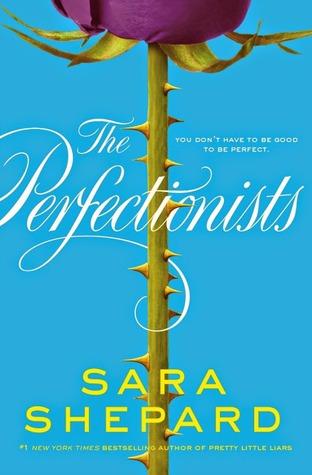 Title:
The Perfectionists
Published: October 7th, 2014
Series: Don't Get Mad #1
Genre: YA contemporary | mystery
POV: 3rd person, multiple
Pages: 336
Publisher: HarperTeen
Format: Electronic ARC
Source: Edelweiss | Publisher
Rating: Tea Party
In Beacon Heights, Washington, five girls—Ava, Caitlin, Mackenzie, Julie, and Parker—know that you don't have to be good to be perfect. At first the girls think they have nothing in common, until they realize that they all hate Nolan Hotchkiss, who's done terrible things to each of them. They come up with the perfect way to kill him—a hypothetical murder, of course. It's just a joke...until Nolan turns up dead, in exactly the way they planned. Only, they didn't do it. And unless they find the real killer, their perfect lives will come crashing down around them.
Highlights:
As with McNeil's
Get Even
and
Get Dirty
, Sara Shepard's
The Perfectionists
is about a group of girls who decide to get revenge on a cruel person who later turns up dead. And every page is very mysterious and exciting to read. The multiple POVs are excellently written, with each girl portraying a distinct personality that makes it impossible to confuse them with one another. As the five girls dig around to find the Nolan Hotchkiss' real killer, many secrets are unearthed, and some of them are quite surprising. The mystery only grows with each new clue, and I am quite curious to see who the killer will turn out to be.
Lowlights:
Perhaps it was because I read
Get Even
first, but this book seemed like a disappointment. There were many exciting moments, but by the time the story concluded, I felt like barely anything had even happened. The novel is too short, and ends without resolving anything, which I am not overly fond of.
Rating: Tea Party: Liked, 3+ out of 5
. While I had a few issues with
The Perfectionists
, it was undeniably a fascinating story to get lost in for a few hours, and I cannot wait to see how this mystery unfolds.