Q&A with Marie Rutkoski
Does your career as a professor and the works you teach ever help to inspire your own writing?
All the time. There's a sentence in The Winner's Crime inspired by a line from Shakespeare's Much Ado About Nothing. It seemed like a throwaway line in the play, a metaphor that was so interesting to me, but I could almost feel Shakespeare's disinterest, like he wrote it and thought, "Well, that's serviceable," and moved on. It's not like him to let an idea he loves lie. I don't think he loved this line. But the metaphor was great, so I tried to see what I could do with it.
Do you ever write any calling cards (a signature characteristic, such as a style of writing, a reoccurring theme / joke / name / idea / symbol, etc) into your stories? If so, any hints as to what readers should look for?
I like to invent myths for my cultures. Each of the books in the trilogy has at least one small story that is told as a story. In Curse, it's the one Enai tells Kestrel about the seamstress. In Crime, it's the story of Jadis. In The Winner's Kiss, well…you'll see.
If you could write one famous literary / TV or film character (hero, villain, supporting character) into The Winner's Crime, who would you choose?
Maybe Veronica Mars. She and Kestrel would be close friends, and I think Veronica could help Kestrel see that you can be strong but also let yourself be vulnerable with people you trust. Also, Kestrel could see how Veronica is with her dad and realize, "So that's what a healthy, loving father-daughter relationship looks like."
If only Veronica could be a part of this trilogy! That would be amazing.
What two songs do you believe capture the essence of The Winner's Curse and The Winner's Crime?
For Curse, I think maybe "Sigh No More" by Mumford and Sons.
For Crime: U2's "With or Without You."
For The Winner's Kiss (the third book): Florence and the Machine's cover of Drake's "Take Care."
(Very) Random Question: If you were a font, what type would you be?
Maybe Henry Morgan Hand.
Marie Rutkoski is the author of The Winner's Curse, The Shadow Society, and the Kronos Chronicles, which includes The Cabinet of Wonders. She is a professor at Brooklyn College and lives in New York City.
Connect with Marie Rutkoski:
About THE WINNER'S CRIME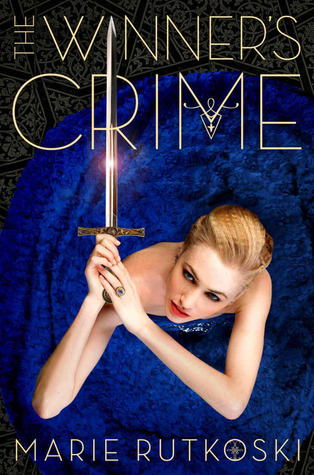 Following your heart can be a crime

A royal wedding is what most girls dream about. It means one celebration after another: balls, fireworks, and revelry until dawn. But to Kestrel it means living in a cage of her own making. As the wedding approaches, she aches to tell Arin the truth about her engagement: that she agreed to marry the crown prince in exchange for Arin's freedom. But can Kestrel trust Arin? Can she even trust herself? For Kestrel is becoming very good at deception. She's working as a spy in the court. If caught, she'll be exposed as a traitor to her country. Yet she can't help searching for a way to change her ruthless world . . . and she is close to uncovering a shocking secret. 

This dazzling follow-up to The Winner's Curse reveals the high price of dangerous lies and untrustworthy alliances. The truth will come out, and when it does, Kestrel and Arin will learn just how much their crimes will cost them.
Giveaway