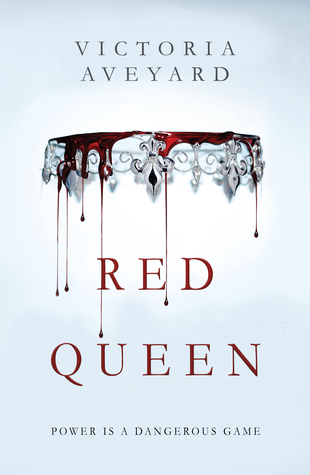 Title:
Red Queen
Author:
Victoria Aveyard
(
@VictoriaAveyard
)
Published: February 10th, 2015
Series: Red Queen #1
Genre: YA Fantasy
POV: 1st person
Pages: 400
Publisher: HarperTeen
Format: electronic ARC
Source: Edelweiss
Rating: The Royal Library, Middle Shelf
Mare Barrow's world is divided by blood—those with red and those with silver. Mare and her family are lowly Reds, destined to serve the Silver elite whose supernatural abilities make them nearly gods. Mare steals what she can to help her family survive, but when her best friend is conscripted into the army she gambles everything to win his freedom. A twist of fate leads her to the royal palace itself, where, in front of the king and all his nobles, she discovers a power of her own—an ability she didn't know she had. Except . . . her blood is Red.

To hide this impossibility, the king forces her into the role of a lost Silver princess and betroths her to one of his own sons. As Mare is drawn further into the Silver world, she risks her new position to aid the Scarlet Guard—the leaders of a Red rebellion. Her actions put into motion a deadly and violent dance, pitting prince against prince—and Mare against her own heart.

From debut author Victoria Aveyard comes a lush, vivid fantasy series where loyalty and desire can tear you apart and the only certainty is betrayal.
Highlights:1
It's refreshing to read a book where romance is barely on the protagonist's mind. Instead, in
Red Queen,
Mare simply wants to live and survive. As a character, Mare is imperfectly intriguing. Nothing about a royal's world comes easily to Mare, and every single day is a struggle filled with mistakes, missteps, and if she's lucky, the correct move. Mare's life becomes a game of chess, where if she loses, she dies. Aveyard develops this dangerous world through Mare's eyes, displaying the slums at their worst and the royals at their most excessive. Throw in some epic, X-Men-like supernatural abilities and
Red Queen
easily manages to become a highly entertaining story.
Simply put, this story is exciting, thrilling, and difficult to set aside.
Lowlights:
Aveyard, you killed my favorite side characters and significantly injured another favorite side character in the beginning of the novel
2
. On another note, a few aspects were incredibly predictable and familiar regarding a few characters and "surprise" moments in the story, but I tend to guess plot twists early on.
Rating: The Royal Library, Middle Shelf: Highly Enjoyed, 4+ out of 5
. Deadly, surprising, and completely captivating,
Red Queen
is a thrilling read that will keep you turning the pages. I recommend checking it out, because this is one outstanding story.
1 Also a highlight, the Obi-Wan Kenobi line. I hope it stays in the finished book.
2 WHY ARE YOU SO CRUEL, AVEYARD?! It's like the YA version of Game of Thrones, where everyone I love dies or becomes seriously injured....I'm kind of afraid to care about these characters.
I received an advanced copy of this novel from the publisher for review consideration.
This is no way affected my opinion of the novel.