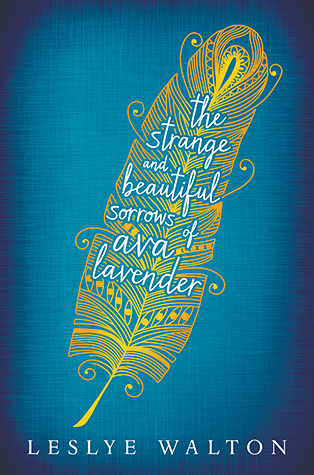 Title:
The Strange and Beautiful Sorrows of Ava Lavender
Author: Leslye J. Walton
Published: March 2014
Series: N/A
Genre: YA Fantasy
Pages: 301
Publisher: Candlewick
Format: Print ARC
Source: Vine Program
Rating: The Royal Library, Bottom Shelf
Magical realism, lyrical prose, and the pain and passion of human love haunt this hypnotic generational saga.

Foolish love appears to be the Roux family birthright, an ominous forecast for its most recent progeny, Ava Lavender. Ava—in all other ways a normal girl—is born with the wings of a bird.

In a quest to understand her peculiar disposition and a growing desire to fit in with her peers, sixteen-year old Ava ventures into the wider world, ill-prepared for what she might discover and naïve to the twisted motives of others. Others like the pious Nathaniel Sorrows, who mistakes Ava for an angel and whose obsession with her grows until the night of the Summer Solstice celebration.

That night, the skies open up, rain and feathers fill the air, and Ava's quest and her family's saga build to a devastating crescendo.

First-time author Leslye Walton has constructed a layered and unforgettable mythology of what it means to be born with hearts that are tragically, exquisitely human.
Entrancing and heartbreaking,
The Strange and Beautiful Sorrows of Ava Lavender
is a lyrical, touching debut. The first 100 pages delve into the history of Ava's family, particularly the women. Beginning with her grandmother (Emilienne Roux) as a child, then her mother (Viviane Lavender), and finally settling on Ava Lavender's own life. The history of these women is one that is wondrously intriguing, slightly magical, and hopelessly tragic. There's something special about all of them, whether it's Emilienne's strange instinct and ability to interpret life, Viviane's ability to know the seasons by the scent of the rain, or the peculiar wings Ava was born having attached to her back. Very peculiar and haunting,
The Strange and Beautiful Sorrows of Ava Lavender
is an imaginative story.
Highlights: Walton displays humanity in the best and worst possible ways imaginable, somehow maintaining realism with all of the magical qualities this story holds. The writing is truly lovely, and expresses emotion in wondrous ways. The characters are each their own person, with distinct personality traits. The romances are bittersweet, adorable, and heartbreaking. The conclusion was nicely done, and the last few lines make the entire story worthwhile.
Lowlights: I think I set my expectations too high. While I thought it was a good, enjoyable story, I didn't fall in love with it the way many others have. I would have liked to know more about Ava's brother, as he was an intriguing character.
Note: Some horrible, terrible events occur within (especially at the end of) the story. Nothing is described in too much detail, but it is still a bit shocking to read. The intensity level may or may not be a bit high for younger YA readers.
I received an advanced copy of this novel for review consideration.
This is no way affected my opinion of the novel.