Today I have an interview with K.A. Harrington (aka,
Kim Harrington
), who was kind enough to answer some questions about her upcoming novel, FORGET ME.
1. QUICK! Describe FORGET ME in 7 words or less!
Two names, one face, and a deadly secret.
2. What was the experience like writing FORGET ME in comparison to your previous novels?
This was my first YA thriller with no paranormal or supernatural elements, so I had to keep the suspense high but also completely realistic. I wanted the reader to feel like this could happen to anyone…even them. It was a fun challenge and I loved it!
3. What steps do you take to build tension and mystery?
I try to keep the pace fast and end each scene in a way that makes you say, "Oh, okay, just one more chapter," until the book is done. Sometimes that's with a plot twist, sometimes it's a character development, but I'm always trying to reel you in further.
4. Do you have any teaser / favorite lines from FORGET ME that you could share?
This is when Morgan and her best friend Toni find the profile of Evan, the boy online who looks exactly like Morgan's dead boyfriend, Flynn.
The face was Flynn's face. Those steely gray eyes that were so hard to ignore. The slope of his jaw. The sly, one-sided grin.



But it couldn't be him. I searched for something sane to grasp on to.


"He's wearing a baseball hat," I said quickly. "Flynn never wore hats."


"He also never said his name was Evan Murphy and he lived in Littlefield. Being an undercover hat lover obviously wasn't his biggest secret."
(Morgan and Toni's friendship is one of my favorite parts of the book!)
5. What essentials do you need in order to write?
I need quiet. I've never been able to write in coffee shops and places like that. I prefer to be alone and surrounded by only the sound of my clicking keyboard. That's not to say I can only write at home, though. I've written many books in a corner of the library!
6. Do you ever write any calling cards (signature characteristics, such as a style of writing, a reoccurring theme / name / symbol, etc) into your stories?
Great question! No one has ever asked me this before. I have slipped something into all of my books except CLARITY. (I think the character got cut somewhere along the editing process.) But PERCEPTION, THE DEAD AND BURIED, SLEUTH OR DARE, and FORGET ME all contain this secret Easter egg. I've been wondering if anyone would pick up on it over the years, but I haven't gotten one email about it. I'll give some clues:
– It's a name. But not one name. The name changes with every book, but the names have something in common.
– It has something to do with an interest of mine. If you follow me on Twitter, you've probably seen me talk about it, especially in the winter.
– You would be more likely to figure it out if you're from where I'm from.
I'll leave it at that…
7. What are you working on right now, story-wise?
A few things, but nothing I can share yet. Fingers crossed that there will be more from me.
J


Thanks so much, Kim! I think I have an idea what the calling card might be, but I'll have to wait until I read FORGET ME to be sure....See below for more information on FORGET ME, which releases on August 7th!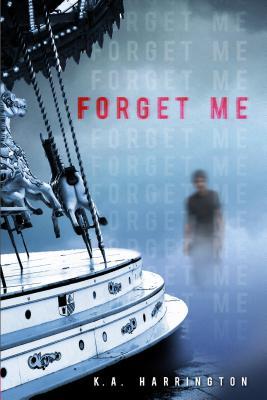 FORGET ME
by K.A. Harrington
Putnam/Penguin, August 7, 2014
Two names. One face. A dangerous secret exposed.

Morgan never minded her boyfriend Flynn's dark and private nature. She found it mysterious and alluring. But now he's dead, and she can't move on. She feels much like her dying town, River's End, with its overgrown amusement park and abandoned houses: once happy…now rotting away.

Hoping for some closure, Morgan uploads her only photo of Flynn to the social media site FriendShare along with a note to say good-bye. But she's shocked when the facial recognition software suggests she tag him as Evan Murphy. She's never heard of Evan. A quick search reveals that he lives in a nearby town and looks exactly like Flynn. Same eyes, nose, jawline. Only this boy is very much alive. Digging through layers of secrets, Morgan questions everything she thought she knew about her town, her boyfriend, and even her parents' involvement in this massive web of lies.

Forget Me is a heart-pounding novel that draws you in and keeps you guessing until the very end.
Giveaway!
I'm going to give away one finished copy of FORGET ME! International, so long as The Book Depository ships to you. Please see my giveaway rules.
a Rafflecopter giveaway